Setting up a live thermometer bar is important, especially if you have a giving day or an urgent target you need to meet or are short.
If you are using the advanced template, the thermometer bar is there by default.
If you are using an alternative template, you need to add it in. You can do this by following these instructions: https://giveeasy.zendesk.com/hc/en-us/articles/360021439754-Deleting-and-adding-a-Live-Thermometer-Bar
Once you have the widget on the page, click on the "click here to set up a progress bar"
Once you click, the following will appear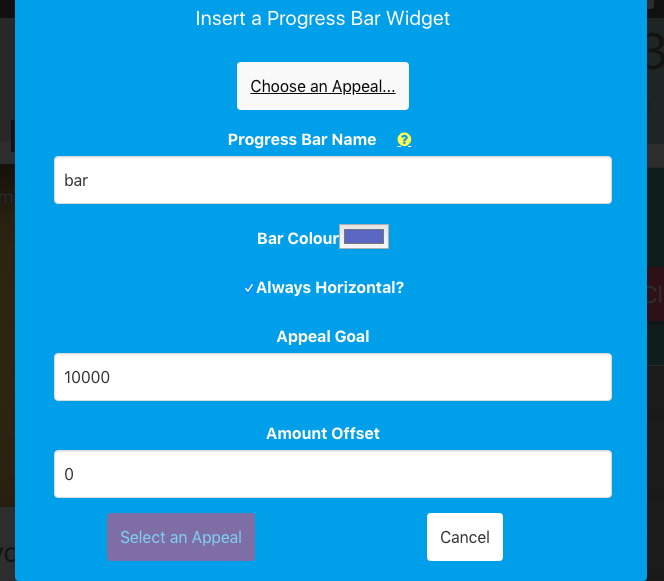 In the INITIAL set up, please choose the appeal pages that you want the live thermometer bar to reflect the total. You most probably want the page you are working on, but there may be others as well
Please leave the Bar colour the default and the Appeal Goal as 10,000 - you will be able to change these once the thermometer bar has been configured.
Then click insert and away you go.
To change the Appeal Goal and the colour, please follow these instructions: https://giveeasy.zendesk.com/hc/en-us/articles/360038431533-Adjusting-the-Goal-and-colour-of-the-live-thermometer-bar-and-adding-amounts-to-it